Volunteer Finds Massive Dinosaur Bone During Dig In Colorado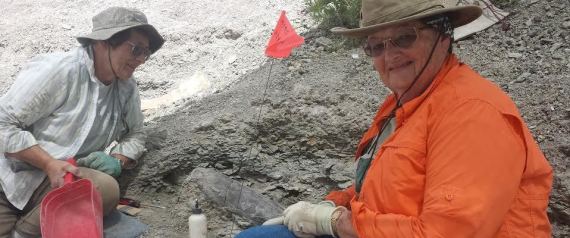 Think you need a fancy degree to do important scientific work? Think again.
This week scientists confirmed that a huge dinosaur bone unearthed on a dig in Colorado is the
largest apatosaurus femur
ever discovered -- and it was found not by professional paleontologists but by a
volunteer named Kay Fredette
.
"Dorothy and I were working on some bones... and came across this lump and thought, 'Oh my goodness, we found another vertebra,'" Fredette told local TV channel KREX, referring to the discovery she and a fellow digger made. "Well, then we got to the back side of it, and it swooped back up again."
The bone, which measures 6 feet 7 inches, belonged to an apatosaurus estimated to have been 80 to 90 feet long, according to Robert Gay, a paleontologist at the Dinosaur Journey Museum in Fruita, Colorado.
Read more here